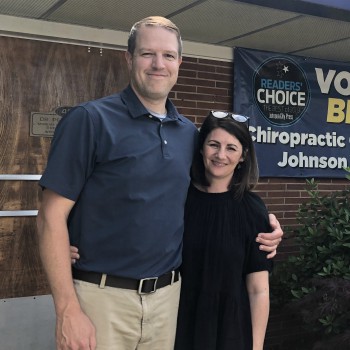 About Us
Continuing a Legacy of Chiropractic Excellence
In June 2020, Dr. Josh Gilmer and his wife Jennifer made the prayerful decision to purchase Dr. Peeks' practice. They are excited to continue the Peeks' many years of commitment and dedication to caring for their patients.
Just as Dr. Peeks used a proven system that works, I am committed to carrying this torch onward. I will do so by using the same system of chiropractic care that has served Dr. Peeks and his patients well.
An Effective, Commonsense Approach to Health
Gilmer Chiropractic is a family-friendly practice that offers a unique approach to chiropractic wellness. Chiropractic is a commonsense approach to health. This form of natural health care is based on the body's natural ability to maintain its health. Most people are amazed at how simple and effective treatment can be!
Here are some of the many benefits associated with this form of health care:
Relieves pain
Improves function
Boosts the immune system
Increases energy
It's drug-free and effective
Dr. Gilmer has a strong commitment to improving the quality of his patients' health. "Chiropractic enhances the body's ability to function naturally. A simple correction is all that's needed to remove interference and restore function."
MEET DR. JOSH GILMER »
Get to Know Jennifer Gilmer, Office Manager
Jennifer—or Jen, as she's known to most—grew up in Jonesborough. She graduated with her Bachelor of Fine Arts from ETSU. Together, she and Dr. Gilmer have lived in some pretty great places throughout their marriage. However, she was thrilled to move back to East Tennessee. "I love being back to the familiar comforts of home and back to family." The Gilmers have enjoyed watching Johnson City grow and are excited to be part of its future.
A lover of simplicity and truth, Jen has always valued the beauty and validity of chiropractic. She experienced the benefits of chiropractic care—both for herself and for her kids. Jen considers it an honor to share this approach to wellness.
"I am passionate about serving others, and can't wait to become the office manager. It will be wonderful to get to know the families that Dr. Gilmer will be caring for." Yes, Jen has big shoes to fill, but rest assured, Sherry has trained her well.
Book an Appointment
Contact our Johnson City chiropractic office today to schedule an appointment!

About Gilmer Chiropractic | (423) 928-2251