Massage Therapy in Johnson City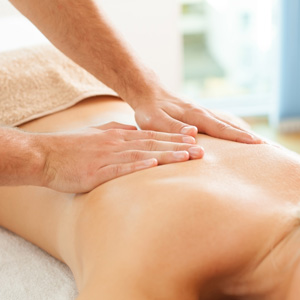 There are times when you need soft tissue therapy as part of spinal restoration at Gilmer Chiropractic. That is when we refer patients to our Licensed Massage Therapist (LMT). They are trained and licensed to work on the muscle system (throughout the body and particularly the muscles that are associated with the spine).
Most patients are put on a plan that addresses their initial problem and then, if needed, on a maintenance program. Others, due to their injuries or vocation may require a steady, on-going plan of muscular intervention.
How Chiropractic and Massage Work
A chiropractic adjustment, reduces joint restrictions or misalignments in the spine and addresses inflammation, stiffness and pain while improving function of both the spine and nervous system which is to be the connection between the brain and body. The treatment itself is a highly controlled procedure that requires skill, analysis and a course of care. Patients typically feel relief immediately after an adjustment.
Meanwhile, massage therapy focuses on addressing the soft tissues: muscles, tendons, and ligaments by improving circulation and blood flow that warms these soft tissues, causing them to loosen and relax. To do this, our experienced therapist apply light, moderate, or deep rhythmic hand and arm movements that help alleviate muscle pain and ache, while increasing the strength and stamina of the affected muscle(s).
Using a variety of techniques, therapeutic massage improves circulation, decreases muscle tension and tightness, and promotes relaxation. Increasing circulation delivers oxygen and nutrients that stimulate healthy muscle function, which promotes healing, reduces pain, and can prevent future injuries.
We're proud to craft custom care plans for each patient we see. In our practice, we offer a variety of choices, including:
Trigger point – A massage therapy that relieves areas that are tight and cause pain
Deep tissue – This type uses slow movements that target the muscles with concentrated pressure
A therapist's healing touch encourages relaxation, while decreasing muscle ache associated with stress, tension and spasms, leaving you feeling rejuvenated and ready to tackle life again. By reducing inflammation and restriction in both your muscles and your nervous system, you are allowing optimal function and communication throughout the body. That's why regular massage therapy and a course of chiropractic care make the up perfect combo for wellness.
Schedule Your Visit
If you'd like to learn more about the benefits of massage and how it can help you, we'd love to invite you to our practice to schedule an appointment. Get started today!
CONTACT US »

Massage Therapy Johnson City, Tri-Cities TN | (423) 928-2251