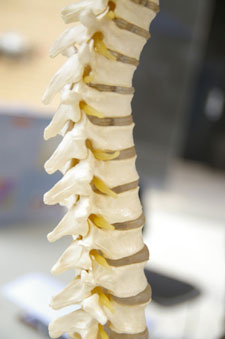 Are you plagued with an ever-returning or constant pain, ache or symptom? Does sitting, standing or working on the computer hurt? If you answered yes to one or both of these questions, change something! I will see that your spine is unlocked, but in between visits to the office only you can make your life better by trying different solutions and possibilities.
Reducing Pain and Improving Movement
It's a rather fun thing to explore solutions to our various problems. This morning I found a solution at my home computer. My neck was hurting. I changed (again) the height of my computer; it didn't work, and my neck still hurt. I raised my chair … hmm, that's a little better (my eye level is at the lower third of the computer screen).
I put my hips firmly against the back of the chair (bet you've heard that before!). Then I moved my chair forward (belly right up against the edge of the desk). And something unforeseen happened. The arms of my chair hooked under the desk, seating and stabilizing my chair. My neck, now over my shoulder and not forward, was not hurting and was moving more freely.
What Will Your Discovery Be?
That's my discovery; what will yours be? When you are in my office, I will never stop listening to your problems, worries and situations. I will never stop trying different fixes for the spine and body. But remember—you are an equally important part of the team. You have a world outside of the office I will rarely be able to affect firsthand. It is merely a matter of not giving up. There is a solution to every problem. We are a team; together we will figure it out.
Contact us today to schedule your appointment! We offer same day new patient appointments and accept most insurance.